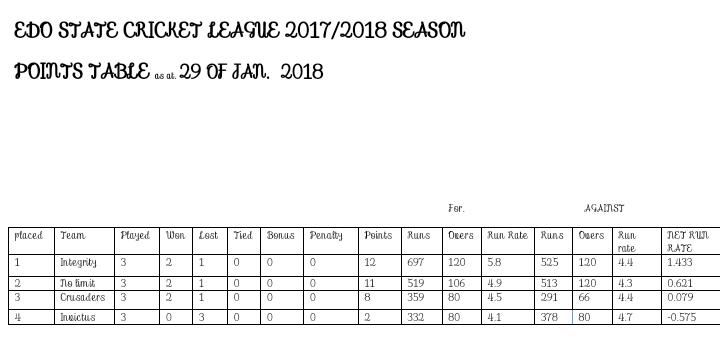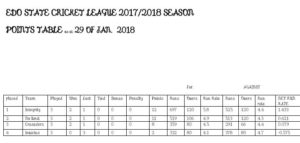 Edo Cricket league Match 6

Integrity force CC v Invictus CC
Integrity force CC lights up the league with a record breaking performance to become league leaders after the first round of games.
Integrity force CC won the toss and elected to bat first scoring a league record of 335 all out in 39 overs.
Peter Aho was the star of the match with 92 runs strongly supported by Vincent Adewoye 84 runs.
Aifuwa Erabor  took 5 wickets to add the extra points for Integrity Force CC
In the second innings Invictus CC started bravely and put up a decent fight but fell short of the required total to record a score of  201 runs all out  35overs
Ovie Osuaso was impressive with the bat scoring 58 runs to give Invictus their first point of the season
Peter Aho was also useful with the ball with his 3 wicket haul to compliment him impressing bating
Integrity force CC won by 134 runs
Edo State Cricket league today's Match 5
Crusader CC vs No-Limit CC
Crusader CC won the toss and elected to bat first scoring a total of 156 runs all out in 34.1 overs.
Aghedo Eghosa was top scorer for Crusader CC with 28 runs supported by Omonye Asika with 14 runs.
Iselele Akhere was the top performer for No-Limit CC with 5 wickets.
In the second innings, No-Limit responded professionally chasing down the total while scoring 157 runs for the loss of 3 wickets in 24.5 overs.
Osariemen Charles scored 34 runs supported by Musa Cyril with 22, Okolibo Dickson and Ofuase Chukwudi with 20 runs respectively.
No-Limit CC won by 7 wickets