Nigeria finishes on the high in South Africa
Nigeria finished on a high at the just concluded ICC U-19 Cricket world cup which took place in South Africa. Nigeria were drawn in Group B against Australia, West Indies, and England with all super powers finishing ahead of Nigeria forcing the Junior Yellow Greens to participate in the Plate games designed for global Rankings.
The plate games which involved all countries that finished second and third place in their respective groups began on Monday in Potchefstroom, South Africa. Nigeria came 4th in group B behind Australia, West Indies and England as West Indies finished as winners of the group and Australia in 2nd place. 3rd placed team in group A will play the 4th placed team in group B, and 3rd placed team in group C plays against 4th placed in group D. Sri Lanka finished 3rd in group A to set up a game a Nigeria
NIGERIA VS JAPAN
The final match in the plate games for Nigeria was between Japan and both team fighting to restore some pride and bragging rights at least for the next 2 years. Nigeria and Japan have both lost all their respective games prior to this encounter.
Japan won the toss and elected to bat first. They gradually built their innings with the obvious target of playing out the 50 overs. Japan lost their first wicket for only 18 runs in the 5th over and from there lost another wicket in every 5 overs. At the 30th over, Japan had lost 5 wickets for 84 runs
Japan eventually finished for 115 runs all out in 42 overs.
Ifeanyi Uboh was the star performer with the ball for Nigeria with 5 wickets, conceding 23 runs in 8 overs with an economy of 2.87.
Shu Nogushi scored 31 runs off 66 balls, supported by Marcus Thurgate with 15 runs off 49 balls and Ishaan Fartyal with 16 runs off 43 balls.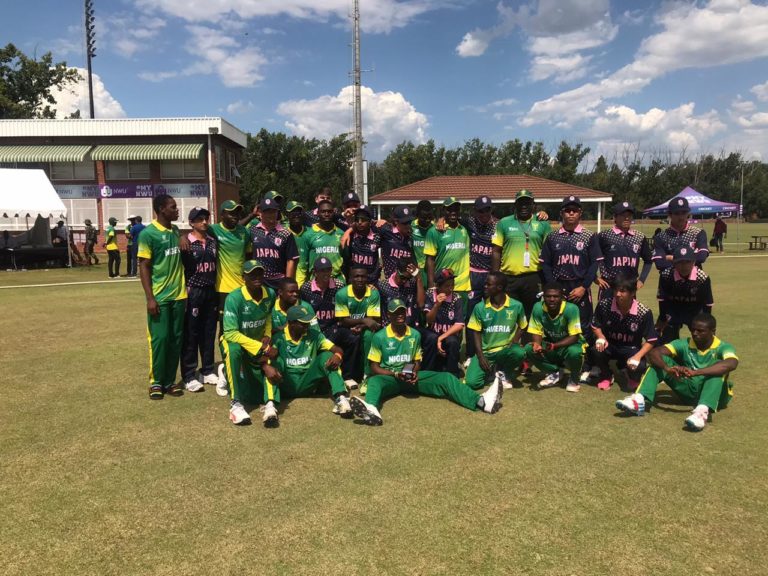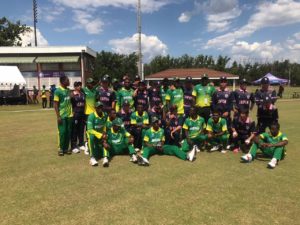 The second innings came quickly for Nigeria as the Junior Yellow Greens looked familiar once again. The opening pair of Suleimon Runsewe and Elijah Olaleye raced to 42 runs for no loss in 7 overs. At the end of 10 overs, Nigeria was 53 for no loss of wicket. Nigeria lost Olaleye Elijah at 55 runs in the 12th over. Brief spell from Miracle Akhigbe saw Nigeria lose the second wickets at 89 runs.
Nigeria eventually scored 116 runs for the loss of 2 wickets in 22.2 overs to record their first win of the tournament to ensure they stay above Japan in global ranking.
Suleimon Runsewe scored a brilliant 56 runs off 70 balls not out, supported by Elijah Olaleye with 21 runs off 26 balls as the best bating contribution for Nigeria
Ifeanyi Uboh was named player of the match with his 5 wickets haul.
Nigeria won by 8 wickets