AHO PETER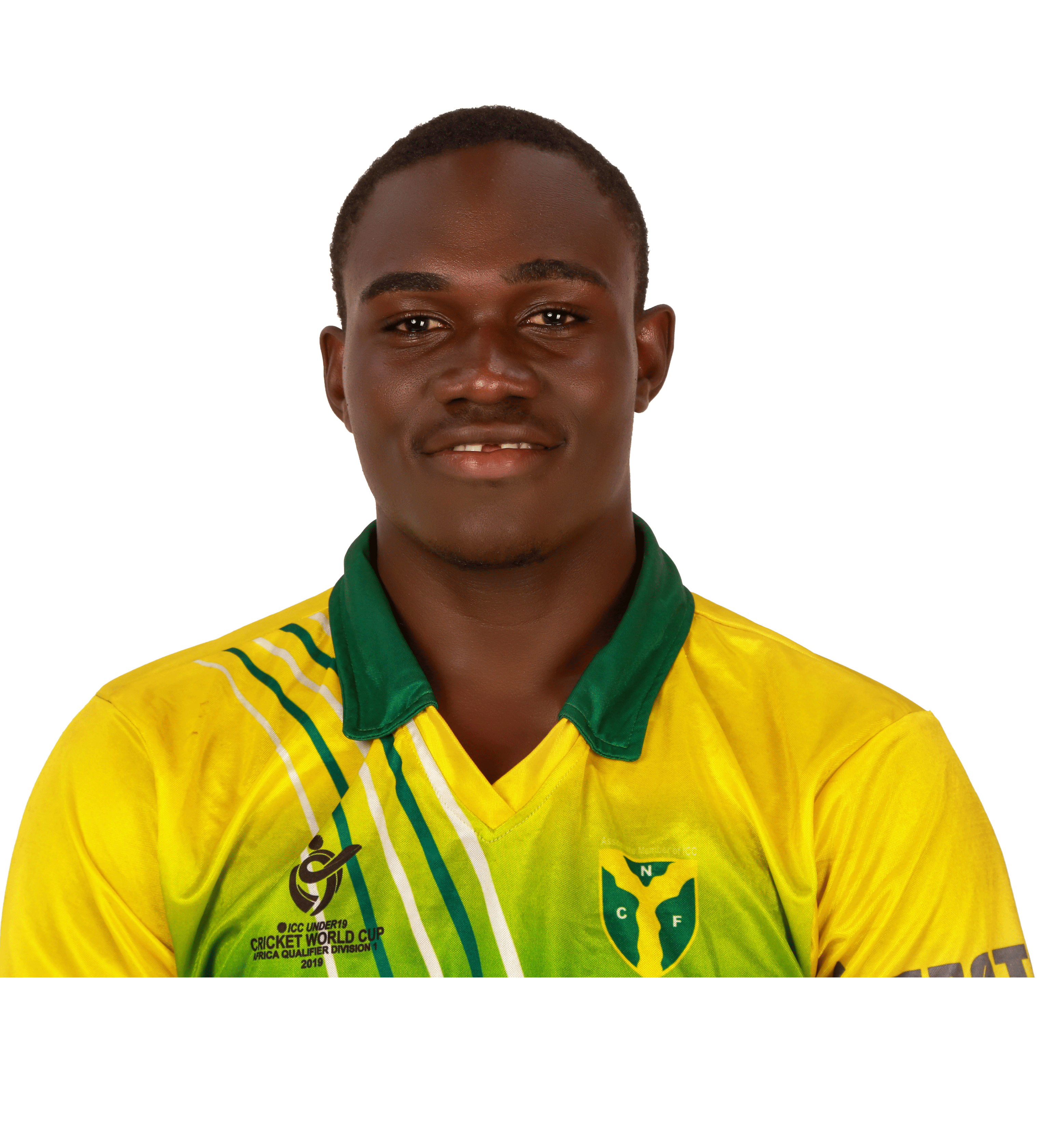 Date of Birth:
02/MARCH/2003
City and country of birth:
BENIN CITY/NIGERIA
Nickname (andhow/whyyougotthisname):
ARCHER (I GOT THE NAME BECAUSE OF A BOUNCER I BOWLED AT A PRACTICE MATCH, SO MY TEAM MATE GAVE ME AS A NICKNAME
Playing rol ein the team (specialistbowler/batter/allrounder):
ALLROUNDER
BattingStyle(RHB/LHB):
RHB
BowlingStyle(e.g.RFM)
RFM
Domestic team/s
EDO STATE TEAM/INTEGRITY FORCE/FOUNDATION CRICKET
CLUB
Have you played first-class cricket?If yes,details please
(team/date of debut/highlights)
NO
Have you previously represented your country in a cricket match/series?If yes,details please:
5 ODI MATCH SERIES UGANDA AND NIGERIA/AFRICAN UNDER 19 WORLD CUP QUALIFIER DIVISION2/AFRICAN T20 CUP/5 MATCH SERIES ZIMBABWE UNDER19 AND NIGERIA UNDER19/AFRICAN UNDER19 QUALIFIER DIVISION1
Have you represented your country in any other sport
before?
NO
Last educational institution attended(name of current
school/college/university)
SCHOLARS IMPERIAL HIGH SCHOOL
What hobbies and interests do you have outside of cricket?
INTERNET DESIGN
Where and why did you start playing cricket?
2015 (THE GAME WAS INTRODUCED TO MY SCHOOL AND I GREW INTEREST FOR THE GAME)
Who is your favorite cricketer of all time and why?
FREDDIE FLINTOFF(I GREW IN CRICKET WATCHING VIDEOS OF ENGLAND STARS AND FLINTOFF WAS MY BEST BECAUSE AS FAR AS HE REMAIN IN THE GAME,THERE IS A LARGE POSSIBILITY THAT THE MATCH BELONGS TO ENGLAND.
Which international cricketer would you most liken your playing style to and why?
BEN STOKES (NEVER GIVE UP TILL THE JOB IS DONE)
Your best cricketing moment/performance to date?
FIVE WICKETS FOR 3 RUNS ON MY DEBUT MATCH FOR NIGERIA UNDER19 AGAINST GHANA AND PERFORMANCE ON OUR FINAL MATCH AT THE AFRICAN UNDER 19 WORLD CUP QUALIFIER DIVISION1
Personal Instagram handle? AHO_PETER_CHRIS
Do you have relatives who have represented your country in cricket before?
NO
Do you have relatives who have represented your country
in any other sport before?
NO
What is your cricketing ambition?
TO PLAY FIRST CLASS LEAGUE
What format of the game attracts and interests you most? Test, ODI or T20?Why?
ODI (IT GIVES TIME FOR CORRECTION WHEN A MISTAKE IS
BEEN MADE)
What are you aiming to achieve from the ICC U19 Cricket
WorldCup?
TO WIN THE WORLD CUP AND GET AN OPPORTUNITY TO PLAY FIRST CLASS CRICKET
What would your"walkout"song be? WIZKID-JORO
What was the best cricket match you have ever attended as a fan?
NIGERIA VS GAMBIA T20 QUALIFIERS
What is your favourite cricket ground that you have played on?
EDO STATE CRICKET OVAL
Who is your most admired athlete from a sport other than cricket?
CRISTIANORONALDO
Which pro sports teams do you follow?
ROYAL CHALLENGES BANGALORE
What is your favorite holiday destination? MY HOME
If you could pick any one,which five people would you invite to a dinner party?
JOFRA ARCHER, KAGISO RABADA, BENJAMIN STOKES,VIRAT KOHLI, HARDIK PANDYA
Which international batsman's wicket would you love to take the most?
VIRAT KOHLI
Which international bowler would you love to hit for 6?
JOFRA ARCHER