NIGERIA'S LONG TREK TO THE ICC U-19 WORLD CUP 2020 BEGINS AND ENDS IN SOUTH AFRICA AS THE HOLD THEIR NERVE TO BEAT SIERRA LEONE IN THE FINAL MATCH
Fresh from the general rest day on the 22nd of March, the 2 west Africa giants squared up for a Clash of the Titans' final match. A win for the Junior Yellow Greens will see them qualify for the ICC U-19 World Cup scheduled for South-Africa in January 2020, while a win for Sierra Leone could see them maintain Division one status in the Africa U-19 Stage.
Both teams bouncing from impressive victories before the game with Nigeria on a winning streak of 4 matches on the throttle while Sierra Leone could be proud of a fine performance against Kenya to announce the emergence of West Africa and slowly dwindling dominance of East Africa over the donkey years.
Sierra Leone won the toss and elected to bat first sending in Nigeria to field for the first time in this tournament.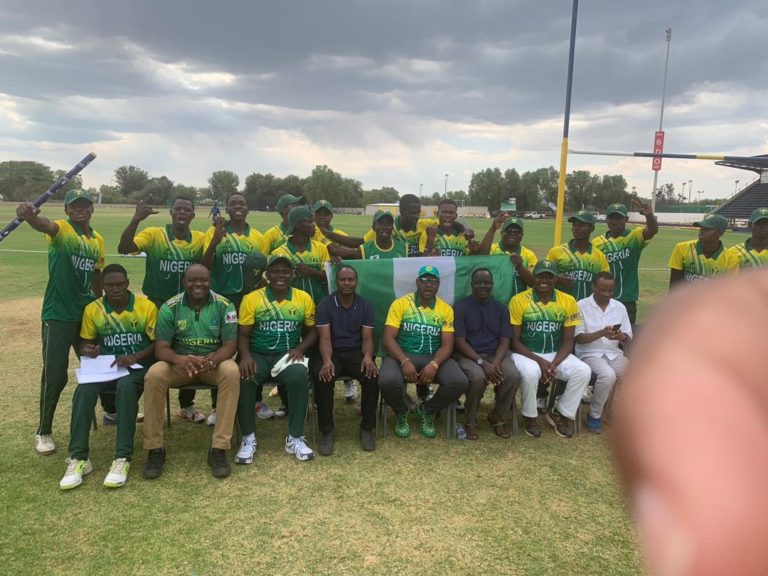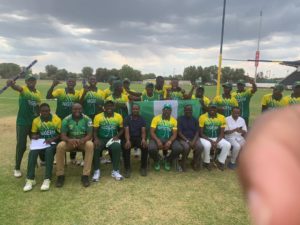 Nigeria Started on a bright note with the bowling attack on point with Sierra Leone struggling to piece together a decent partnership. However, one lone ranger in the person of Kamara Henry struck with power and venom into every trick delivered by the Nigeria bowlers, racing to quick 50 runs off 60 balls, supported by T. Sancho with 24 runs off 50 balls and John Bangura 21 off 31 balls to help their team to a total of 138 runs all out in 37. 2 overs
Mohamed Taiwo, Abdulraman Jimoh, Peter Aho and Abolarin Rasheed all had 2 wickets each.
In the Second innings, Sierra Leone deployed a bowling approach starting with spin to ensure that they restricted the Nigeria Team to 20 runs for the loss of 1 wicket before lunch. At the resumption of lunch, Sierra Leone struck with 2 more wickets to ensure that they Nigeria team worked hard for every run scored.
At 20 overs, Nigeria were 38 runs for 3 wickets with the game hanging in the balance. Danladi Isaac struck 25 runs off 46 balls and Miracle Ikaigbe 22 runs off 56 balls steadied the ship with a 47 runs partnership before the Sierra Leone struck again with consecutive wickets to create a tension level like no one has ever felt since the beginning of the tournament.
FALL OF WICKETS IN NIGERIA BATING INNINGS.
1-12 (SI Runsewe, 5.5 ov), 2-33 (S Mba, 15.6 ov), 3-33 (OE Olaleye, 16.1 ov), 4-80 (I Danladi, 31.4 ov), 5-85 (MK Ikaige, 33.5 ov), 6-87 (SA Okpe, 34.3 ov), 7-91 (Mohameed Taiwo, 37.2 ov), 8-122 (E Boniface, 41.1 ov)
At 91 runs for 7 wickets, it was looking more like Sierrea Leone will provide that punch that will sink the ship eventually and the timing of the next fall of wicket, will determine the outcome of the game.
The bowlers took their turns to impress with Emmanuel Boniface striking 11 runs off 9 balls in the death, supported buy Abdulranman Jimoh with 12 runs off 12 balls not out.  Nigeria was 122 runs when that all important wicket fell and well in-sight of the finish line though in Cricket……….Anything is possible.
The top performer who showed class and courage in the midst of trouble was Peter Aho with a remarkable 21 runs off 32 balls not out.
Nigeria Survived in what could be described as the best performance in this tournament to record the required total of 139 runs for the loss of 8 wickets in 44.2 overs.
Peter Aho was named Man of the Match with his bowling and bating statistics of 2 wickets and 21 runs Not out.
Nigeria won by 2 wickets to qualify as the first team in the whole of North-West Africa to Qualify for the ICC U-world Cup Scheduled to take place January 2020 in South Africa.
MUSA EHIZOJE BODIE
PUBLIC RELATIONS OFFICER (NCF)
(08055839884)