Nigeria beats Botswana and Kenya on match day 2 of the Kwibuka Women's tournament
NIGERIA MAKES HUGE STATEMENT AS BOTSWANA AND KENYA ARE BEATEN ON THE SAME DAY
There has never has been a better time in Women's Cricket to be a Nigerian and a Cricketer at the same time than today as Nigeria hits a continental high by beating Botswana and Kenya on the same day in the same tournament. On a cold and wet Sunday across Nigeria, our ladies far away in East Africa decided to send some sunshine our way by achieving yet a remarkable feat at the ongoing Kwibuka Women's Tournament in Kigali.
Day 1 Match 2
Nigeria vs Kenya
Nigeria faced Africa giant Kenya in what could be described before the game as underdogs going by recent history where we has lost all our games prior to this game and with huge margins as well. On the day, Kenya won the toss and elected to bat first. Just as expected, Kenya went unscathed through the power play overs with dominating performance to see one of the opening pair Mary Mwangi losing her wicket in the 13th over, scoring 23 runs with 61 runs on the board for her team. Take nothing away from the superb bowling performance from the Nigeria team and Kenya was made to sweat for every run with boundaries hard to come by.
Queentor Abel held on for her team to continue piling runs on the board but the Nigerian bowlers took the wickets from the other end to ensure that no other batter from Kenya scored double figures. Queentor eventually fell in the last over but not without scoring a half century of 51 runs off 55 balls, five 4's and one 6 to wrap up a good batting performance and Kenya finishing with 95 runs for the loss of 4 wickets in 20 overs.
in the second innings, Nigeria the opening 3 wickets of Etim, Esther Sandy and Omonye Asika in the power play over with just 23 runs on the board. a further scare hit the Nigeria bench when Salome Sunday lost her wicket early followed by Esiegbe Favour to leave Nigeria on just 29 runs for the loss of 5 wickets in 8.5 overs.
Lucky Piety and Oseyande Omokhobhio turned the game around with a solid partnership, hitting boundaries at will to set Nigeria on the charge to a historic victory. Quick fire 32 runs off 27 balls from Piety, hitting 2 huge six's in the process not out and 24 runs off 19 balls from Oseyande was enough to put victory in sight for Nigeria. Peculiar Agboya also got into the action at the tail end scoring 11 runs off 8 balls with 2 boundaries.
Nigeria eventually finished with 98 runs for the loss of 6 wickets in 16.4 overs
Lucky Piety was named player of the match for the second time in the day with her bowling and batting heroics of 2 wickets and 32 runs not out.
Nigeria won by 4 wickets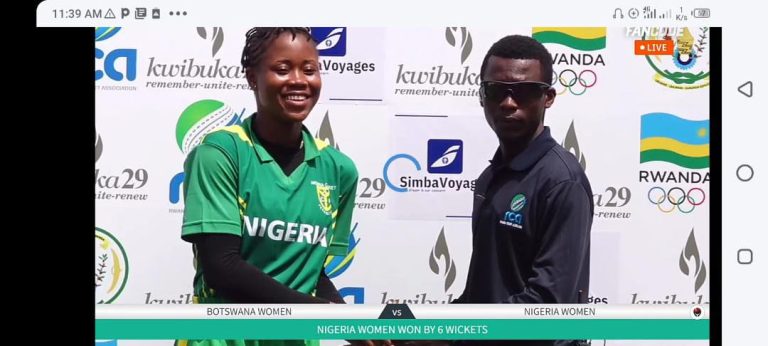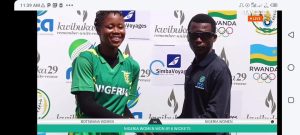 Day 2: Match 1
Nigeria vs Botswana
Botswana won the toss and elected to bat first. Improving so far in the tournament Botswana got off to a flying start with impressive batting as they navigated everything from the Nigeria bowling attack which saw them lost their first wicket after 12 overs with 61 runs on the board. Opening pairs of Shameelah Mosweu and Laura Mophakedi had both scored 26 and 24 runs respectively to set them up for a great total. Oseyande Omonkhobhio then struck in her first oval to break the partnership and 2 quick wickets followed for just 9 runs in the next 3 overs and that gifted Nigeria control of the game.
Thapelo Modise would come on with a late surge to score 14 runs off 15 balls but in the end, Botswana finished with an impressive total of 96 runs for the loss of 6 wickets in 20 Overs.
Lucky Piety and Esiegbe Favour both had 2 wickets, conceding 22 and 14 runs in 4 and 3 overs respectively.
Nigeria knew 5 runs and over would get them home and dry and that was the plan in the second innings in their plan to chase down the runs. Shrugging off the disappointment from the first match, Omonye Asika and Captain Blessing Etim started well for Nigeria with both pairs scoring 13 runs off 19 balls and 26 runs off 22 balls to set Nigeria at 32 runs just before the end of the power play overs. Lucky Piety picked off from where the opening pair had stopped and quickly raced to 20 runs off 21 balls and hitting 3 boundaries in the process before she was out LBW. Salome Sunday and Favour Esiegbe wrapped up the game in some style with both hitting double figures of 13 and 14 runs respectively.
In the end, Nigeria made light work of the run chase to finish with 98 runs for the loss of 4 wickets in 16.2 overs
Goabilwe Matome of Botswana got 2 wickets, conceding 13 runs in 3.2 over as the best bowling effort her team.
Lucky Piety was named Player of the match.
Nigeria won by 6 wickets.